DUBAI, – Quotes from platinum-selling British singer-songwriter Ellie Goulding, speaking ahead of the Opening Ceremony at Al Wasl Plaza.
Ellie, you're back in Dubai after quite 18 months for the world. How does it feel to be in Dubai and the UAE?
It feels great to be here. I feel like there's really great energy. It feels like everyone's excited to be back doing what they love at something so special and surreal. It's been a real pleasure and just so great to be back doing what I love.
Expo 2020 is one of the first truly global events since the start of the pandemic. As the largest event ever held in the Arab world and the first World Expo held in the region, how does it feel to be part of something so momentous for the region as a whole?
It feels amazing to be in the UAE when they are hosting the World Expo for the first time. I think it's one of those pivotal moments. I think we all need a pivotal moment at moment in the world right now. I think the idea that this is something new here is just a really great sign that things are changing for the better. And, you know, the UAE is really forward with their green initiatives and it is a pretty green place, as far as comparisons with some other countries and places. So I'm proud to be a part of it. And I think, as I said, it's a moment that we need. We need to keep having these special, new moments.
Sustainability is a major theme at Expo 2020 – it's one of our three key subthemes. You've been campaigning for years on sustainability as a Goodwill Ambassador for UN Environment. What is the most important thing for young people when it comes to sustainability and the environment?
I think the most important issue for young people when it comes to sustainability is actually that young people are the ones understanding it. And, in terms of getting it right, it's actually the older generations that need to change and particularly those in power. The young people have been brilliant. I think they have no issues in understanding what we need to do and how the world needs to change.
Obviously, having a platform for young people who are trying to fight for more sustainability and for more green initiatives, they're doing it every day. They're going out on strike; they are asking their schools and they're asking their local communities on what we can do to change things? So, actually, it's not them that needs help. It's getting the older generations to listen to them. And getting people who can actually change policy to listen to them because they're the smartest of all of us. They've had to inherit this climate crisis. It wasn't caused by them, but they're the ones that are going to have to face the consequences in the future. So we need to listen to them.
Speaking of making a change, how do we create lasting change?
Lasting change really comes with policy change. It's all very well us talking about what needs to be done; there needs to be real change. There are so many things that need to change, which is why I'm glad that this is leading into COP26 in Glasgow in a few weeks. I'm going to be there myself. It seems, again, that there just needs to be a pivotal moment of absolute change. We need to keep [global] warming below 2°C. That's what we're trying to do at [COP26]. It seems like there still haven't been big policy changes. We also need to listen to people's stories.
I think storytelling is such a great way to make people understand what's going on with climate change and how it's affecting people in so many different ways. And it is affecting people. For example, the Maldives, one of the greenest places in the world, is going to be one of the first communities to suffer from the effects of climate change and see sea levels rising. We just need to change the policy.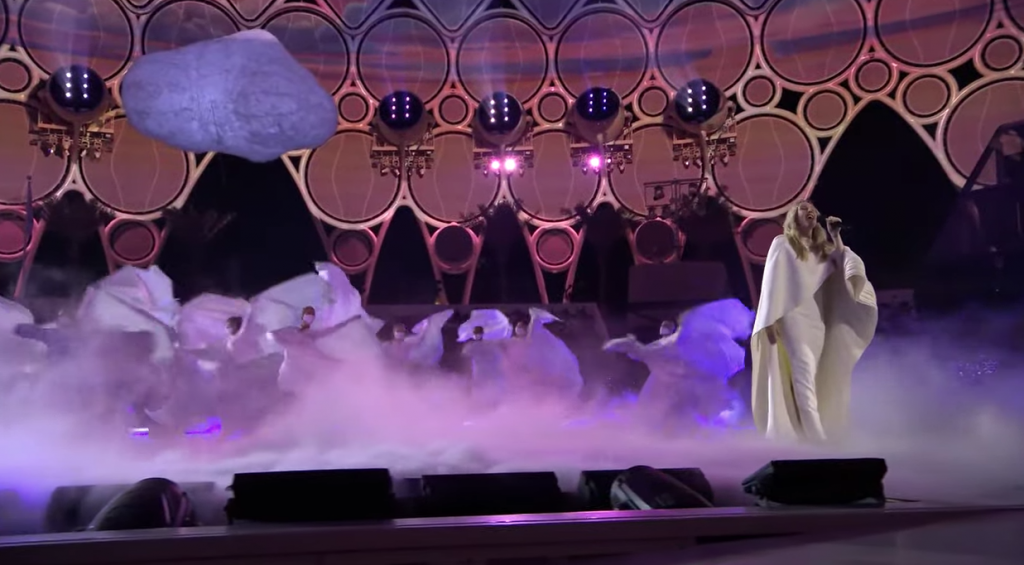 Expo 2020's theme is 'Connecting Minds, Creating the Future. Expo 2020 will also host 192 nations, the highest participation in any World Expo. What role does international collaboration play in ensuring lasting change?
International collaboration – people coming together – is really the only solution to climate change, to the climate crisis and to sustainability. There is the only one way to get real change. That's why I was so upset about [Brexit] because I really think that the only way that we can solve the climate crisis is for everyone to come together. And that's why it's so awesome to be here at Expo [2020] in the UAE, where all these countries are coming together and working together and collaborating.
I really think the key to [addressing] many of the world's problems is actually coming together and listening to each other stories, and comparing what different countries do to solve things. So [international collaboration] is really important. It is crucial, actually.
Al Wasl dome is the largest 360-degree projection screen in the world – it's huge! How do you feel about being at the center of that?
It was so overwhelming coming out for rehearsals right in the middle of the dome. I came up from a sort of underneath and it was so surreal. Obviously, this is what I love doing. I love performing. And if it can be in a setting as magnificent as this, then great. It was a really amazing moment.
I haven't been able to perform like this for a long, long time. I really haven't been able to even perform songs from my [latest] album. So it's great to come and sing a song that really is close to my heart and one of my favorite songs I've written, actually.
To all your British fans – and your fans across the world – what message do you have in terms of visiting Expo 2020?
It's absolutely incredible. I can see already that it's just such an amazing coming together of minds, of innovation. I love the fact there's such an emphasis on sustainability – there has to be really. It's really, really cool. Come and see it!